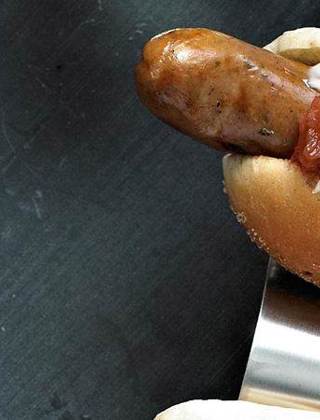 Ingredients
10 Royal Drum hotdog buns
Potato aioli:
2 egg yolks (preferably pasteurized)
1 pinch of salt
1 teaspoon Dijon mustard
2dl grape seed oil
1 clove garlic
50g. potatoes, boiled and mashed
Rhubarb compote:
400g. rhubarb, diced in cubes
100g. sugar
1 teaspoon salt
1dl vinegar
1dl water
Roasted portobello mushrooms:
100g. Portobello mushrooms, diced into cubes of 5x5 mm.
oil
Salt and pepper
Fennel crudité:
1 fresh fennel, in thin slices (mandolin iron)
Ice water
Crispy onion rings:
1 large onion (or red onion)
1 pinch of salt
The rich aioli is a great match for the sweet rhubarb. When put together with the fennel and portobello mushrooms, it is a perfect combination for our Royal Durum bun.
Instructions
Potato aioli:
Rhubarb compote:
Roasted Portobello mushrooms:
Fennel crudité:
Crispy onion rings: